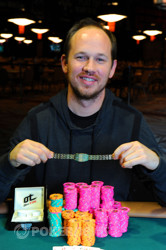 The players are still filling in the empty pegs at the tables, and so most of the tables are playing short-handed for now. Still, some tough tables are emerging.
Over along the far rail, there is a six-handed table with five players we know well. Jeff Sarwer, Frank Kassela, Eli Elezra, Jon Turner, and Dan Heimillier figure to provide a tough go of it for the sixth man at the table. Adjacent to them is a table with Michael Binger, Jason Mercier, and Vitaly Lunkin that should be entertaining to watch as well. Our friend Elissa Harwood has drawn a chatty table with Chad Brown and Tom Koral.
Everyone looks pretty fresh on sleep, even the guy who closed down the Amazon Room last night. While most of these players were tucked soundly in bed, John Monnette was busy winning his first bracelet in Event #23: Eight-Game Mix. There's no rest for the weary, and Monnette is back here this evening looking for the double-dip.